7 generations of proven solutions
PALLMANN group flagged off its journey in the year 1903 starting out as flour millers & mill designers. After an impressive start and with a pursuit for advancement, company, expanding its capacity gradually ventured in to plastic industry with specializing in size reduction and preparation techniques. And today PALLMANN has a worldwide reputation in being the specialist for plastic pulverizing.
With the team of more than 700 people worldwide, the most advanced and latest technologies and thrust on constant research and innovation, PALLMANN has registered an astounding success around the world.
Supported by in-time and focused customer-service and an eye for innovation and quality, PALLMANN has set vision on the horizon...meaning excellence that's never ending!
Where sprit of innovation runs deep
Deepak Poly Plast Pvt. Ltd. The Company founded and formed by the mission of Mr. Deepak Asrani to take technological excellence to a new high, never looked back ever since. Engaged in designing and manufacturing of testing equipments for plastic & rubber, the company is surging ahead adding new innovations and new achievements under its belt. Deepak Polyplast holds very respected and esteemed position with its 'value for money' quality solutions. At the core of which lies deep rooted commitment to training, learning and inquisitiveness which leads the company to explore unknown territories of industry and coming out with unexpected solutions.
...When experience and expertise join hands...it writes a new chapter of EXCELLENCE called PD Polygrinders!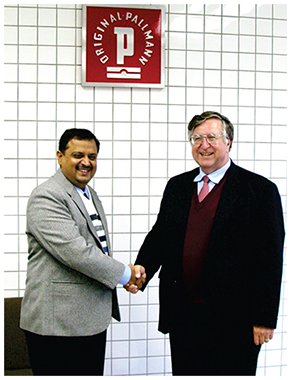 Mr. Deepak Asrani (L), Managing Director - Deepak Polyplast Pvt. Ltd. Mr. Hartmut Pallmann (R), CEO - Pallmann, Germany
"When experience and expertise join hands...it writes a new chapter of Excellence called PD Polygrinders!"
Where excellence rules...
When two renowned industry players join hands to create a history in the industry it was the birth of PD Polygrinder - the company born by the ideal marriage of the two very known and well established companies in their field. Deepak Polyplast - an established name for its plastic and rubber testing and PALLMANN - a German giant having reputation of being masters in size reduction/ Pulverizing technology. Together as PD Polygrinders with combined strength of experience and expertise, the company is ready to gain heights in the field of plastic pulverizing.