Your Experienced Partner for Size Reduction and Processing Techniques
Economical Solutions for the PVC Pipe & Profile Industry with includes PVC Pipes / Profile / Sheet / Runners.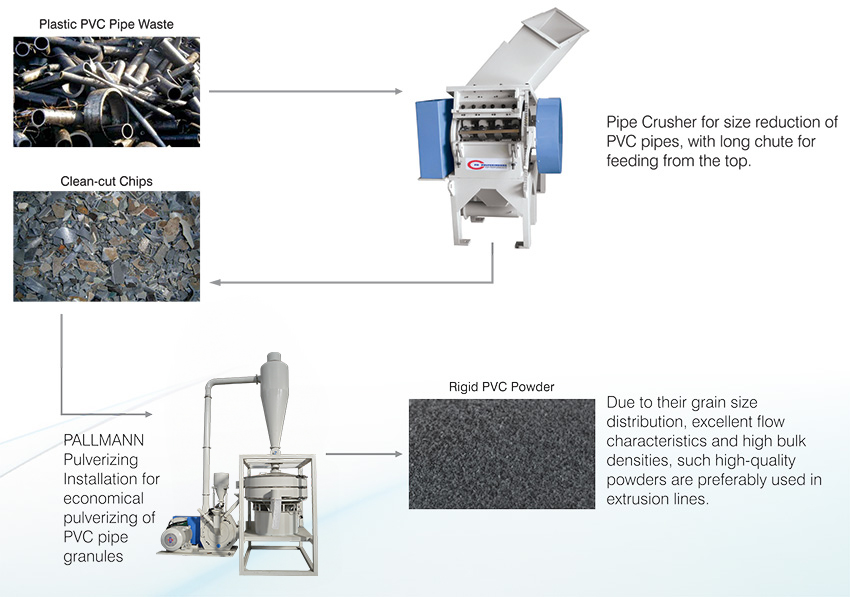 Pipe Granulator - An Overview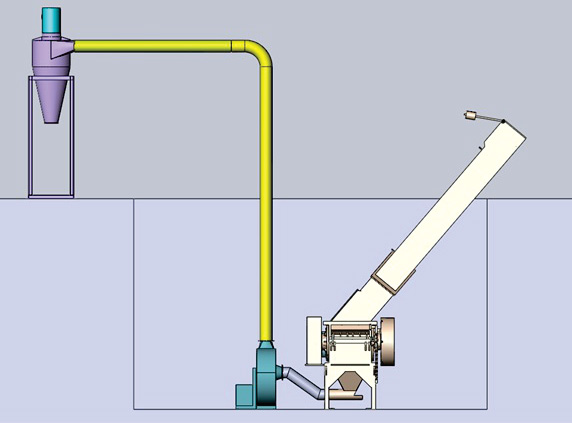 Application
For the size reduction of Rigid PVC pipes and profiles
Features
The Knife Mill is of strong steel welded construction. The machine housing consists of a lower and an upper part, which is hinged and can be opened by means of a hydraulic cylinder. This guarantees an easy screen change, a quick change of the rotor knives and an intensive cleaning in a very short time. The stator and rotor knives can be adjusted outside of the machine in a jig which belongs to our supply.
Sound insulation
An effective sound insulation can be achieved by installing the machine in a pit with sound insulated cover.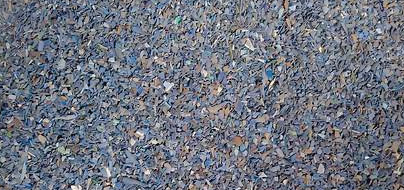 PVC Grinding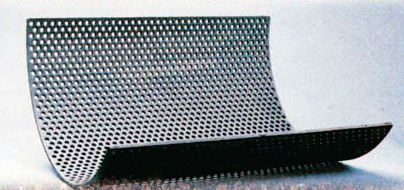 Screen / Sieve
Knife-Setting is Essential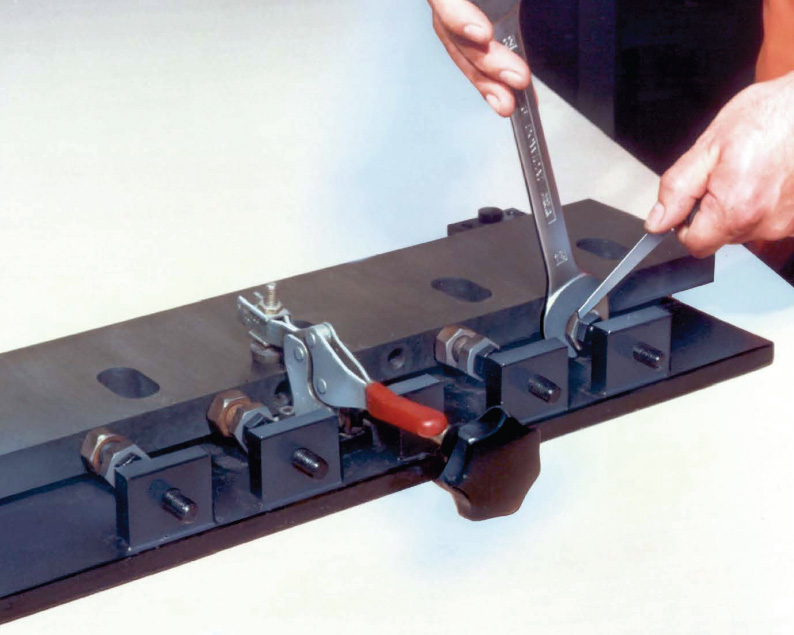 In Granulators size reduction is effected between rotation and stationary knives. The more precise the cutting gap between the knives is adjusted, the higher the product quality and the lower the operating cost.
PALLMANN Granulators always offer the advantage of rotor and stationary knives being precisely set in a fixture outside of the machine while a second set of knives is installed and operating in the machine. The downtime of the machine for knife changing is therefore reduced to the time required for removal of dull knives and installation of sharp knives only. There is no setting or adjustment work to be done inside of the machine.
The technique of quick and efficient knife setting is another typical PALLMANN achievement.
Technical Data
| | | | | |
| --- | --- | --- | --- | --- |
| Chamber Dimension | mm | 300X400 | 400X500 | 500X700 |
| Rotor (Dia.) | mm | 300 | 400 | 500 |
| Rotor (Length) | mm | 400 | 500 | 700 |
| Rotor type | - | Slant / Clawe / Guillotine | Slant / Clawe / Guillotine | Slant / Clawe / Guillotine |
| Main Motor | kw | 11 / 15 | 30 / 37 / 45 | 45 / 55 |
| Throughput rate* | kg/h | 100-250 | 200-400 | 300-500 |
*Output is based on the infeed material's Thickness and Size.

Guillotine Rotor

Slant-Cut Rotor

Clawe - Type Motor
Decisive Advantages
Feed chute for 3 m long pipes, 400 mm dia. max.
Standard length 6 m pipes have to be cut in half only once
Split machine housing allows good access to the grinding chamber for easy cleaning
Steel fabricated design, rugged and reliable
Rotor and stator knives set in a jig - No knife adjustment inside the machine
Screen is only clamped into the lower machine housing - no fixing bolts
Installation in a pit for easy feeding and good sound insulation
Optimum granule quality for further pulverizing in PMMI mills
Short delivery time and very competitive price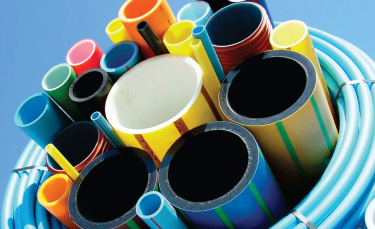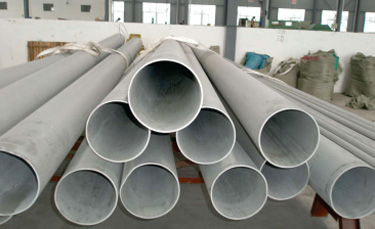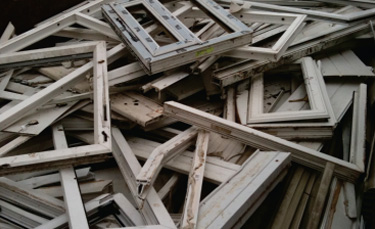 Pulverizing Systems for Pipe and Profile Scrap
Granulated production waste from PVC-pipe and profile manufacturing is pulverized, worldwide, with PALLMANN pulverizing systems with Disc Mill. These recycled powders are mixed with new PVC-material and are reentered into pipe and profile extrusion. The pulverizing systems are available with or without screening in order to meet the customers' demands for fineness.
PMMI-300S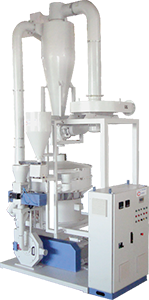 PMMI-500S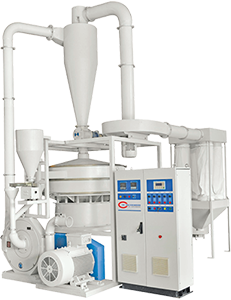 Decisive Advantages
Fully-automatic temperature and load-controlled system
No Requirement of Water or Air Cooling System
High throughput rate at low specific power consumption
Easy access for maintenance and wear part exchange
Compact construction with minimum space requirement
Economical and cost effective
Technical Data
Sr. No.
Model
Main Motor (kW)
Total Connected
Load (kW)
Rotor Diameter
(mm)
Output Range
(Kg/Hr)*
1
PMMI 300
22
28
300
130 - 170
2
PMMI 450
37
45
450
200 - 275
3
PMMI 500
55
65
500
275 - 350
4
PMMI 600
75
87
600
400 - 500
5
PMMI 800
90
109
800
600 - 800
*Life of Blades depends upon the infeed material's Cleanliness, Type, Filler Content and Size.